Regular price
Sale price
$32.99
Unit price
per
Sale
Sold out
for "minecraft decorations for bedroom"
100% NO-RISK MONEY BACK GUARANTEE

We think you're going to love your products! But if you aren't completely satisfied with anything, you can return the product(s) within 30 days of purchase.
"These boxes are a little pricey, but totally worth it if you need to do a Minecraft gift or party. They can serve as decorations, or to hold gifts. The best part is that you can use them for storage after, so your not just throwing away money on something you used for an hour!" - Wendy V.
Pixel Treasure Chest Paperboard Boxes (Set of 3), Decoration for Video Gamers, Birthday Parties, Mining Fun, Storage or Display
[ADD PIXEL MINING FUN] Our mining fun paperboard boxes are awesome for decorative storage. Whether they are for a video game fan or another builder theme, you can stack them closed to add a cool touch to any space. Place them on your kid's bedroom shelf or on a desk or bookcase. Display them open with video game accessories, collectibles or other knick knacks. These pixel treasure chest styled boxes are super cool and perfect for just about anyone!
[DECORATIVE GAMER TOUCH OR FUN GIFT BOX] Use these paperboard pixel treasure chest boxes as fantastic gift boxes for birthdays or other celebrations that can be saved for later use. They're great for a gamer get-togethers, pixel parties, birthdays, weddings, graduation presents, mining styled displays and much, much more.
[IDEAL FOR BEDROOM STORAGE, PARTY DISPLAYS] Our sturdy paperboard boxes have a charming pixel treasure chest theme design that makes them perfect for creating stunning displays for a video game party, pixel themes, weddings, mining celebrations, baby showers, and/or other party displays. They make unique photo props and can be used as lightweight table risers when stacked or used individually.
[METAL HANDLES AND HARDWARE ADD REAL ELEMENT] Our durable pixel treasure boxes have decorative hardware to add realism and fun to their authentic look. Designed using quality paperboard, every detail appears authentic. From the metallic bands to the mining pixel styled surface to the metal handles and latch, these treasure chest boxes are amazingly detailed They even pack within each other for easy portability.
[SET OF THREE CAN STORE ITEMS OF VARIOUS SIZES] This wonderful decorative paperboard treasure chest set contains one of each size; Small: 8in x 4.9in x 4.87in, Medium: 9in x 5.88in x 5.88in, and Large 10in x 7in x 7in.
These Mining Pixel Treasure Chest Boxes are Perfect for Your Get-Together!
Our wonderful, pixel treasure chest styled paperboard boxes are great for video gamers (mimics many of the treasure chests found in your most popular video games), mining celebrations, weddings, birthdays, gamer parties and other treasure chest themed events. Basically, these cool decorative treasure chest boxes look fantastic as part of any get-together. Your child or special someone will love receiving gifts packed in these treasure chest boxes and then using them for storage later. Whether you're giving out gifts in our pixel styled chests or letting them stand as their own decorations, these wonderful party boxes are an amazing addition to any celebration!
Each Package Includes:
1 Small Paperboard Treasure Chest Box measuring 8in x 4.9in x 4.9in.
1 Medium Paperboard Treasure Chest Box measuring 9in x 5.88in x 5.88in.
1 Large Paperboard Treasure Chest Box measuring 10in x 7in x 7in.
Video Gamers, Pixel Fans, and More Will Love These Fantastic Mining Treasure Chest Paperboard Boxes
So, what are you waiting for? Control the clutter and keep your prized possessions beautifully and safely contained. Or, package your mining gifts to your friends and family in these wonderful treasure chest boxes. Either way, you'll love the awesome decorative touch that these wonderful pixelated boxes provide!
View full details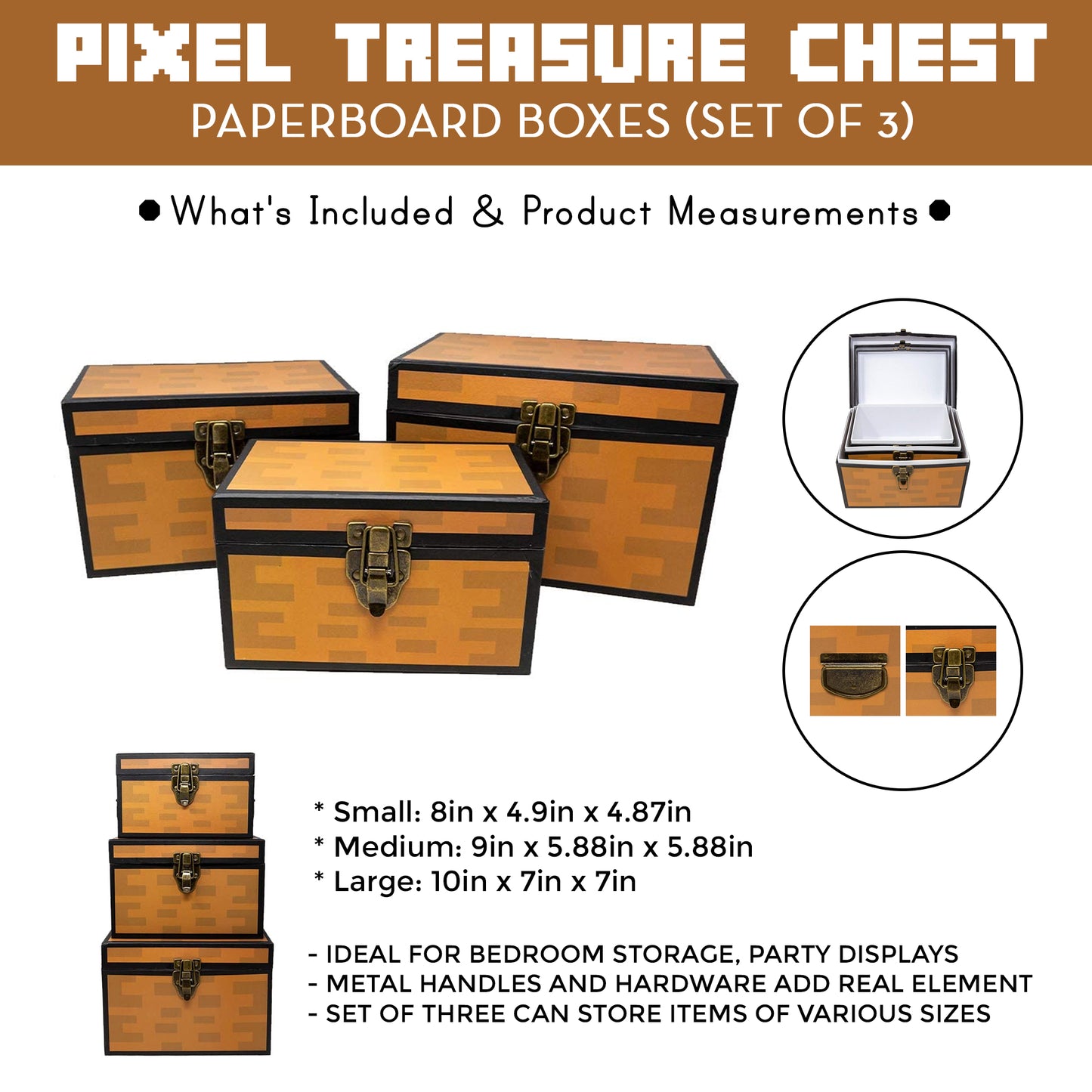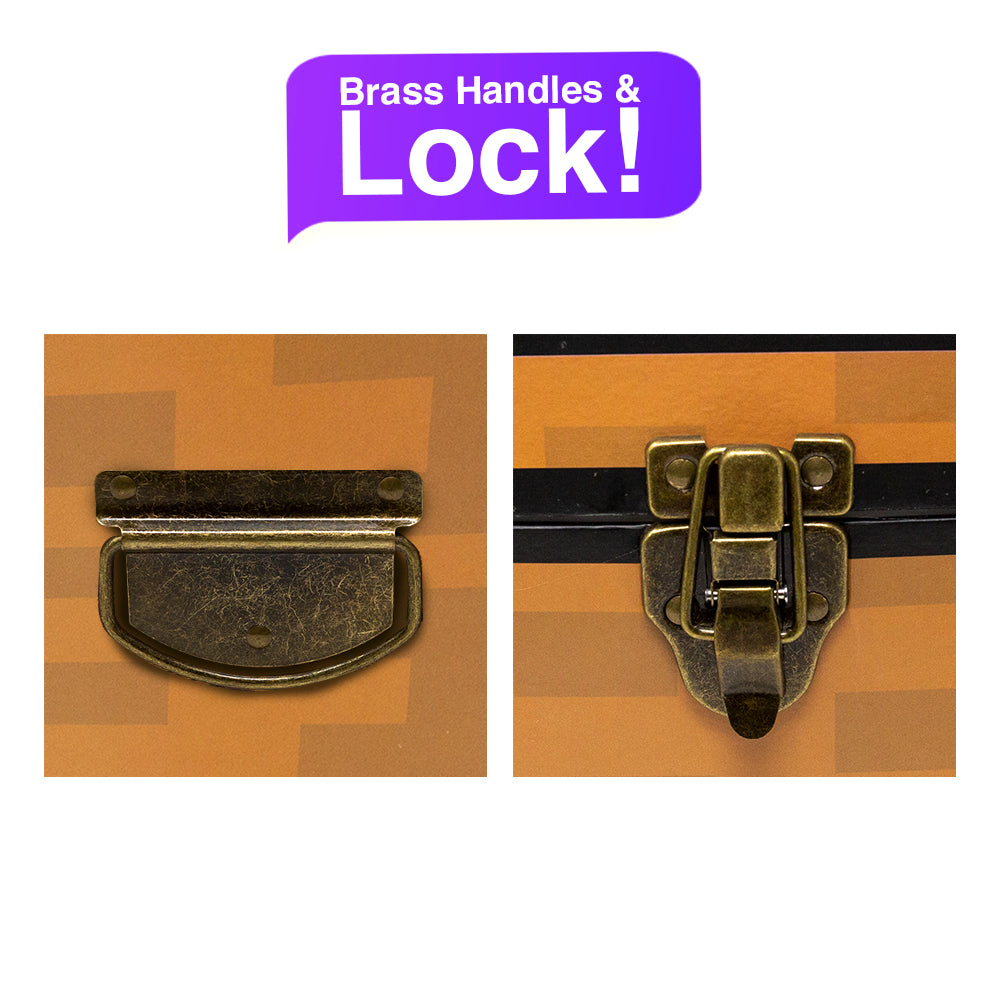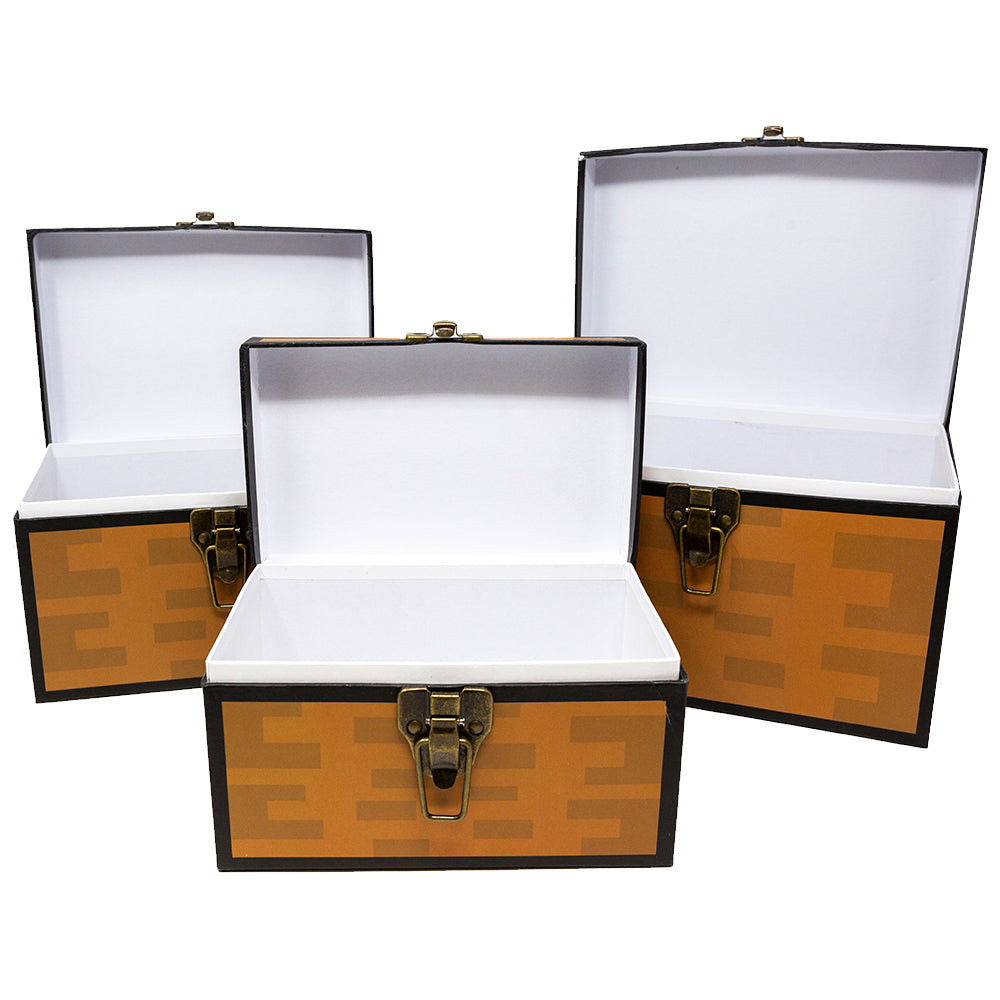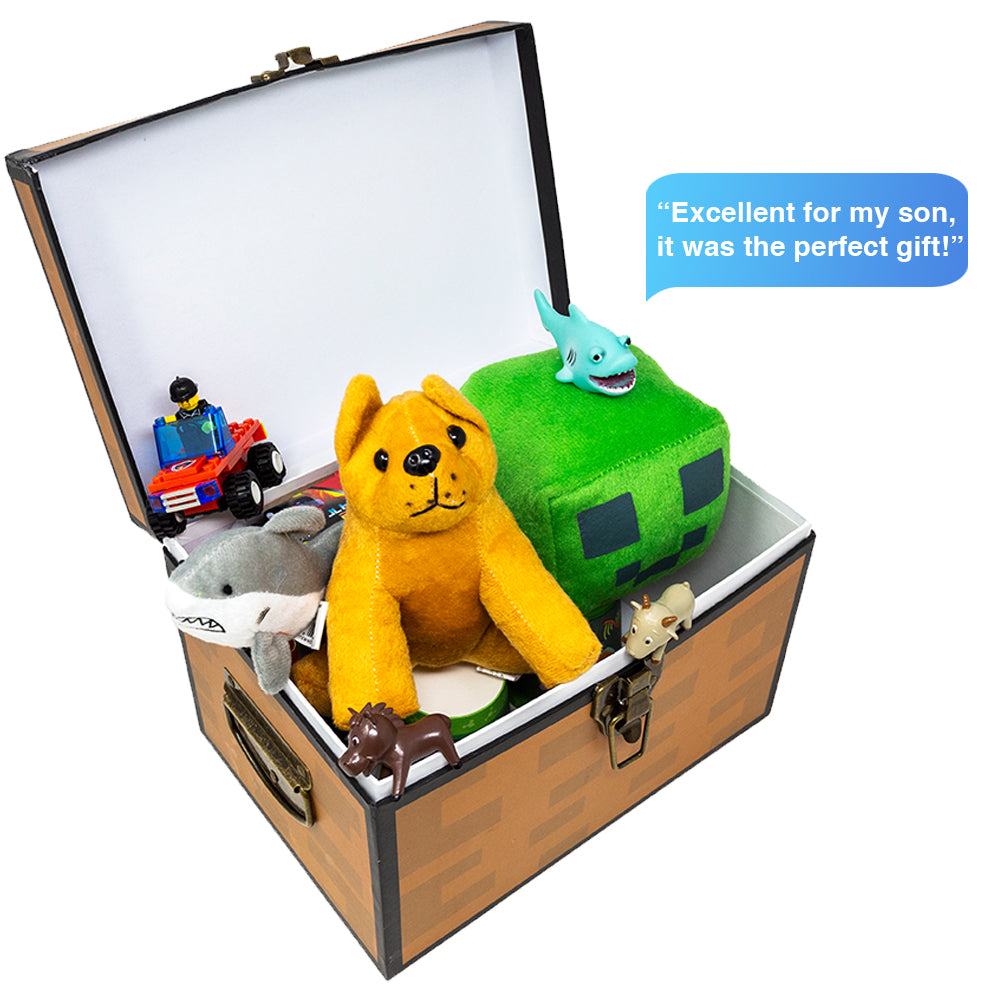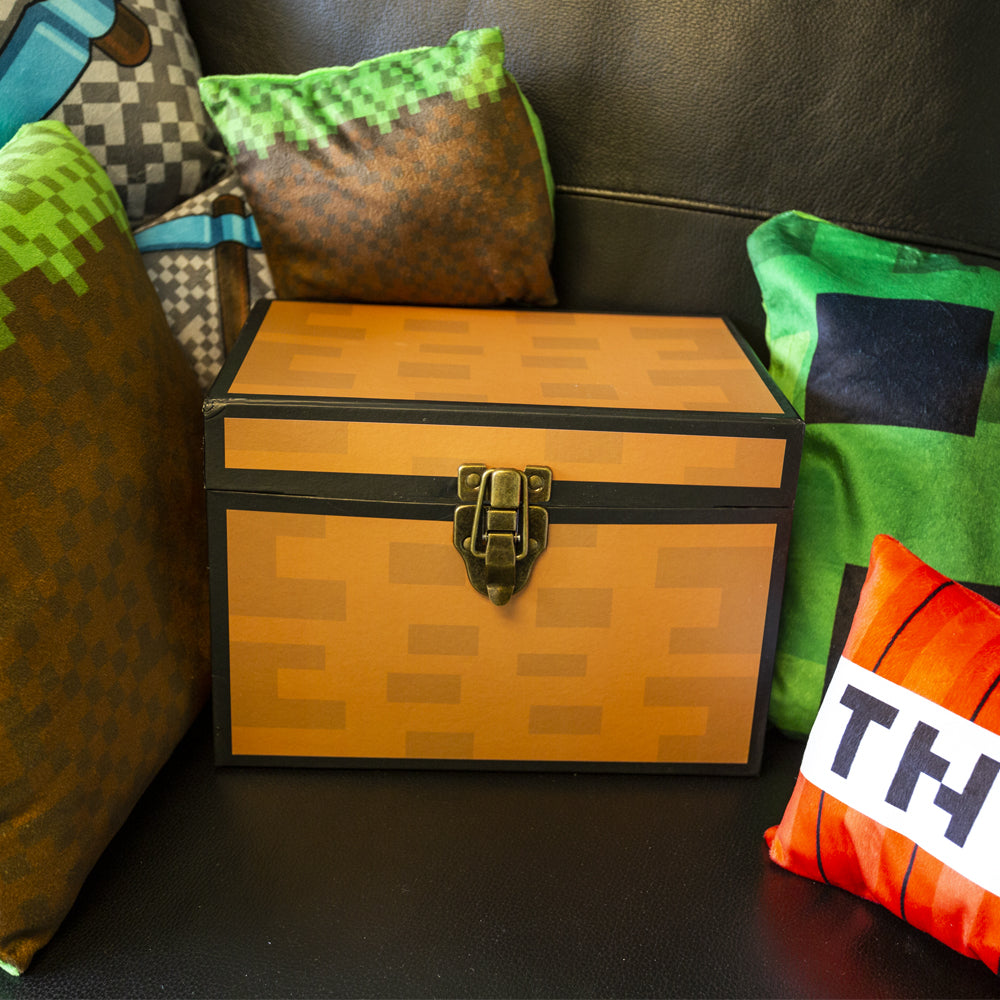 Adorable!
I really like these little boxes. I got them to put my son's wrapped birthday presents in since he loves everything Minecraft. The boxes seem fairly sturdy for what they are, but since they are basically cardboard/heavy paper I'm not certain how long they'll hold up to a 6 year olds abuse. They were a bit smaller than I would have liked especially considering the price. Overall I think they're very good, if the price was a bit better I would have given 5 stars.
Picture looked a lot bigger not worth 42.00 very disappointed
Got ripped off again, not worth $42.00
tiny
I was expecting it to be a little bit bigger but, no these things are pretty tiny. It works well for my son's legos though!
Straight out of the game
Best party table scape ever! Great print job, real hardware, and very unique. The sides of the box feel like a hardback picture book. The creators splurged in all the right places with these. They now complete our kid's room and hold all his prized treasures.
Smaller then expected
I got the Pixel chests to use for gifts for my daughters birthday and couldn't wait for them to come in but when they did I was a little disappointed in the size. I guess I should have paid closer attention to that part. I assumed the largest box would hold a small Minecraft Lego set like the Fox or pig set but no. The largest one is probably the size of a toddler shoe box with a little extra height. It fits two funko pop character boxes and a small chapter book on top. These 100% are not worth the $50 I paid for them. Cute but not worth that price. My daughter will love them regardless of size so I'm keeping them for that reason. These do seem sturdy and the metal handles and clasps are a great touch. My daughter will definitely love them for Knick knacks and small toys. They would be a great addition to a table or counter to hold treats or small party favors.